Redhill 'grot spots' to be cleaned up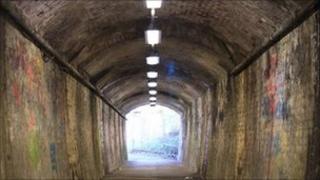 Twelve unsightly areas in a Surrey town centre have been identified as needing a clean-up in a drive to improve its image.
The "grot spots", which include service yards, alleyways and unused land, are blighting the town centre according to Reigate and Banstead Borough Council.
The first to be improved is an alleyway at the side of NatWest Bank in Station Road, which has been deep cleaned.
Gates have also been installed at either end to prevent public access.
Councillor Natalie Bramhall said that as well as being unsightly, the problem areas were attracting litter, anti-social behaviour and crime.
Surrey Police helped identify the 12 spots during a walking tour with the council last year.
Business location
The pedestrian subway under the railway line between Redstone Hill and Marketfield Way is also being improved.
New lights have been installed and Network Rail is to put in anti-graffiti cladding.
"We are trying to turn Redhill into a thriving town centre which is a competitive retail destination, a major business location and a great place to live," said Ms Bramhall.
"These 'grot spots' present a poor image of Redhill to residents, commuters and potential inward investors."
Some of the sites are in multiple ownership, meaning the council is having to work with a variety of pubic sector and private organisations to make the improvements.