Guildford businessman on climb for Africa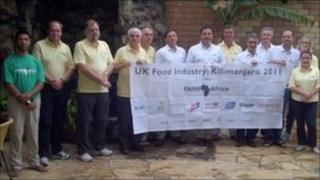 A Surrey businessman is among a team climbing the world's tallest freestanding mountain to raise money for a charity working in east Africa.
Iain Ferguson, from Guildford, was setting off on Saturday and is expected to reach the summit of Kilimanjaro, on the Tanzania border, on Friday.
He is part of a team climbing for Farm-Africa, a British charity working with farmers and local communities.
The team has so far raised £210,000 from donations and sponsorship.
Mr Ferguson is a regular walker along the North Downs Way, Leith Hill and St Martha's Hill near his home.
He said he had received "incredible" support from friends and colleagues, including people from his local church, St Nicholas in Guildford.