Guildford warning over catalytic converters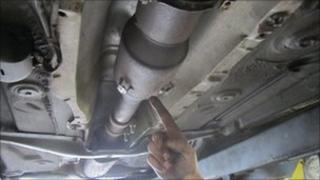 Owners of small businesses are being urged to get catalytic converters on their vehicles marked after a series of thefts in Guildford.
Surrey Police said a number of catalytic converters had been stolen in the Slyfield and surrounding areas.
"It is worrying as many of these thefts have taken place in large car parks which many people pass through," said neighbourhood officer Tom Kimnell.
He said the thefts had taken place in daylight but there were no witnesses.
"A thief who is stealing a catalytic converter will need to climb under a vehicle in order to reach it, so please be vigilant and report any suspicious activity to police immediately," said Mr Kimnell. "These people must be caught."
Catalytic converters, which can cost more than £1,000 to replace, are targeted because of the scrap value of the platinum, palladium and rhodium metals they use to remove toxins.
Converters can be marked free of charge at an event in Westfield Road on the Slyfield Industrial Estate on Wednesday.
Specialist kits are used to mark vehicles with a code which identifies a device if if is stolen and later recovered.