Bird population in south east in 'worse decline'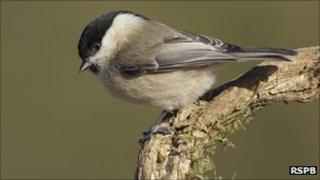 The bird population in the south east is showing the worst decline in England, according to an RSPB study.
The study looked at how the number of birds had changed across nine English regions since 1994.
Steve Gilbert, from the RSPB, said: "We've known for some time that many bird species are struggling in the south east, but the results of this survey really highlight the problem."
Farmland birds in the south east had fallen by over a quarter, it found.
'Staggering regional differences'
Woodland birds have fallen by 19% and the overall bird numbers in the south east have fallen by 12%, the study found.
"It's worrying that we've lost more than a quarter of our farmland birds and a fifth of our woodland birds in this region, with species like the Lesser Spotted Woodpecker, the Willow Tit and the Corn Bunting having vanished from some counties," said Mr Gilbert.
The study also reveals a divide between north and south England, with birds in the north generally doing better than in the south.
The RSPB said there were a variety of factors that could be causing the decline, including lack of woodland management, woodlands drying out, which may be linked to climate change, as well as high human population density and intense use of land and water resources.
Mr Gilbert said: "Variations in these factors between the north and south of England could also help explain the staggering regional differences.
"What these trends tell us is that it's vital that the government addresses the serious issues of planning reform and climate change, and helps farmers make their land more wildlife friendly through effective, targeted agri-environment schemes."
Martin Harper, RSPB's conservation director added: "If some of these birds are struggling to survive that may say a lot about the quality of our own countryside and our own quality of life."
The study was produced in association with the British Trust for Ornithology.