Injured Carl Bartholomew flown home from Thailand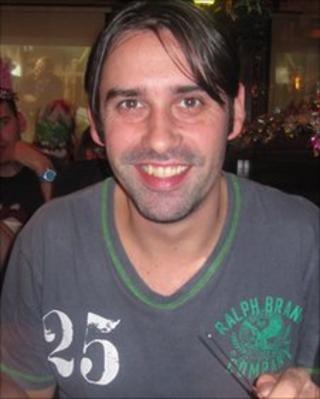 A 33-year-old Surrey man left in a coma after a bike crash in Thailand has been flown back to the UK after family and friends raised about £80,000.
Carl Bartholomew, from Blackwater, is being treated at the Salford Royal Hospital, in Manchester, where he remains in a coma with brain injuries.
His mother, Marilyn, said although he was making slow progress it was not clear if he would make a full recovery.
"We have to stay positive... that's what's going to help Carl," she said.
Mr Bartholomew was injured seven weeks ago.
His mother said: "Carl was on a scooter and he basically came off it. We have no idea how.
"We've had no information about the accident at all... he was found at the roadside, picked up and taken to the local hospital on the island."
Remortgaged house
She said he had stayed longer in Thailand than expected and his insurance had expired, but when she had tried to renew it, it was not possible as no company would issue a policy to someone already out of the UK.
Mrs Batholomew has urged people going abroad to make sure they have the right type of insurance.
The money to fund his medical expenses and his flight home was raised partly through his parents remortgaging their house, and fundraising by Mr Bartholomew's friends in Camberley.
Mrs Bartholomew described the whole experience as "absolutely awful" and "a parent's worst nightmare".
"When we were in Thailand the doctor said to me, 'I think we are looking at two years for a recovery' - I just hope by that he means full recovery."