Surrey sees 24 jobs created at apprentice drive launch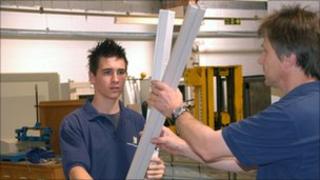 A drive to fill 200 apprentice places in 100 days in Surrey has led to pledges to create 24 positions on the first day of the campaign.
Businesses took part in a launch event at Epsom Racecourse on Tuesday.
Surrey County Council said nine firms stepped forward with employment offers, including Virgin Media, the Sun Inn, in Dunsfold, and Camberley's Project Five.
The local authority is also creating 10 places on its own apprenticeship scheme.
Peter van den Broeke, head of Virgin Media's apprenticeship programme, said: "Our apprenticeship programme has tremendously benefited Virgin Media.
"It has injected innovation, new ideas and fresh approaches into the company."
The council said the target age group for the scheme was 16 to 24, but it was also open to older people.
The aim is to make sure no-one in Surrey is classed as "not in employment, education or training", or "Neets", by 2015, the council has said.
Figures from the local authority said Surrey had less than four in 100 young people classified as Neets, compared with the national average of more than six in 100.