Tony Hart's 'art out of anything' passed on by daughter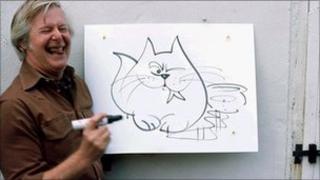 The daughter of artist and TV presenter Tony Hart has been teaching her father's art techniques to children in Guildford.
Carolyn Ross gave a workshop in the Surrey town which looked at "making pictures out of anything".
The theme was to echo Hart's legacy of inspiring children to be creative with the minimum of materials.
The group created pictures out or scrap paper, cardboard, straws, string, cotton wall and chalk.
Ms Ross has also curated an exhibition of work by her father.
The art display can be seen at the Guildford House Gallery until 8 October.
'Fitting tribute'
Exhibition organisers said: "Everyone who watched Vision On, Take Hart or Hart Beat will know that Tony Hart could make a picture out of anything - corrugated cardboard, sand, string, vegetables, inkblots - the list is endless."
The exhibition of his artworks includes his cartoon characters and a lesser known area of his work, which was his portraits, along with an appearance by his co-presenter Morph. All the works were loaned by Ms Ross.
Guildford council, which owns the gallery, said it was a "fitting tribute" to Hart, who lived in the nearby village of Shamley Green for 40 years.
It said the exhibition was a rare opportunity to see the work of the celebrated artist and national children's television icon in a local gallery.
Hart died two years ago in 2009 at the age of 83.
In the same year, his daughter unveiled a memorial to him in Maidstone, Kent, the town where he was born.
As well as growing up in Maidstone, Hart studied art in the town at what was then the Kent Institute of Art and Design.
The art college later became part of the Kent and Surrey-based University for the Creative Arts.