Surrey youngsters being encouraged to join the navy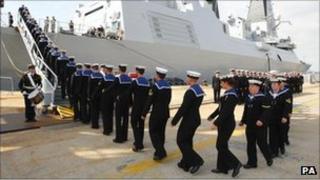 Former seafarers from Surrey are encouraging youngsters to consider jobs in the Royal and Merchant navies.
Residents at the Royal Alfred Seafarers' Society home near Banstead said there was not enough awareness of the important role the navies play.
Capt Roy Davies said he had some of the best experiences of his life travelling the world from Russia to South America.
A recent survey by Sea Vision UK showed that 12% of 15 to 24-year-olds said they would consider a navy career.
'Youngsters miss out'
Commander Brian Boxall-Hunt OBE from the Royal Alfred Seafarers' Society said: "In the home I hear some fantastic stories from people that have served in both the Royal and Merchant Navy and the camaraderie is incredible.
"It seems a shame for youngsters to miss out on that through lack of knowledge."
Capt Davies worked in the Merchant Navy for 45 years. He said the maritime industry was a forgotten sector.
"When I went to sea the British Merchant Navy was the biggest in the world and in every single village there was at least a couple of people that went to sea."