Surrey accountant completes two-thirds of run across US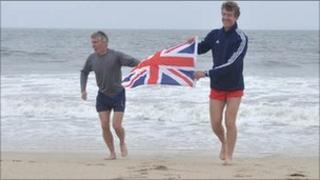 A Surrey accountant aiming to run 3,080 miles (4,957km) across the US to raise £10,000 for Help for Heroes is about two-thirds of the way into his route.
Chris Finill, 52, of Cranleigh, has been running about 40 miles (64km) a day since he left San Francisco with athlete Steve Pope on 17 August.
The pair, who plan to get to New York by 6 November for the city's marathon, have just run through Iowa.
They said gravel surfaces made recent runs a "nightmare" in a Twitter post.
Mr Finill also wrote in his blog: "Here in Iowa it remains stubbornly hot.
"The only thing to take the edge off the heat are the very strong cross winds which have been blustering around all day.
"As a mark of the changing seasons we passed through several towns where pumpkins and Halloween were beginning to flex their festive muscles."
The pair have raised about £2,000 of their planned £10,000 total for the Help for Heroes charity.