Surrey leader to be endorsed and unveil new cabinet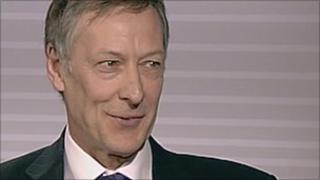 New leaders of Surrey County Council are expected to be unveiled at a meeting after the current leader Dr Andrew Povey said he would stand down.
The ruling Tory Party has nominated Councillor David Hodge - current deputy leader - as the new leader.
The full council will meet on Tuesday to endorse Dr Povey's successor and see a deputy leader and cabinet unveiled.
When Dr Povey said he was standing down as leader, he said he and his deputy were "seeing things differently".
'Abandon library plans'
Dr Povey remains in place as council leader until the meeting, but will stand down to pursue his business interests.
Mr Hodge was elected to Surrey County Council in May 2005, having previously served on Tandridge District Council.
Unison, the council's largest trade union, previously said it hoped Mr Hodge's election would mean a fresh start.
Unison spokesman Chris Leary said thousands of residents were unhappy about cuts the council was making, particularly over changes to the library service which will see nine sites losing paid staff.
The full council meeting on Tuesday will hear a motion from Residents Association Councillor Eber Kington, which states plans for community libraries have failed to gain support, and there is support for the use of volunteers but within a fully professional library service.
The motion calls on the cabinet to abandon plans for community libraries and adopt a library policy retaining professional staff in all 52 libraries with additional voluntary support across all sites.