Surrey ecologists battle to save rare red-barbed ant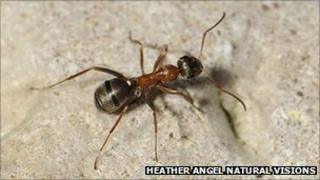 Ecologists in Surrey have been battling to save what is thought to be Britain's rarest animal.
The red-barbed ant is only found on one of the Isles of Scilly and in Surrey on Chobham Common.
Its numbers are dwindling after being driven out by another species of ant, called the slave-making ant.
Surrey Wildlife Trust (SWT) has been working with the Zoological Society of London to try to boost the population in the county.
Previously, the red-barbed ant was more widespread in Surrey. There was a colony at the Pirbright military ranges near Woking, but the nest was attacked by slave-making ants.
"The slave-making ants basically killed the queen and workers, and took away the larvae and pupae and reared them as their own or ate them," said Scotty Dodd, an invertebrate ecologist at SWT.
With only two nests left at Chobham Common, Mr Dodd has travelled to the Scilly Isles where there are strong populations of the red-barbed ant.
"We've brought mated queens back to Surrey and with the Zoological Society we've reared a small brood of workers and put nest capsules out on Chobham common," said Mr Dodd.
As well as this, the slave-making ants nests are being surveyed and monitored to ensure they do not encroach on the new nest capsules.
Mr Dodd said that if necessary the slave-making ants nests will be dug up and moved away. Letting the species die out is not an option, he said.
"In the current times when many ecologists and scientists are talking about mass extinctions, we are not prepared to start haemorrhaging species from our national nature reserves," said Mr Dodd.