Surrey Police agree to public-private move to cut costs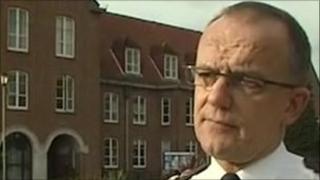 Plans for Surrey Police to step into "unexplored territory" and team up with a private organisation to cut costs have been approved.
Surrey Police Authority has given the go-ahead for the force to use the private sector in non-frontline areas.
Chief Constable Mark Rowley said the force would move "cautiously forward".
Peter Williams, who chairs Surrey Police Authority, said while the force has made significant savings, it has to find a further £5m over three years.
The police authority has published a report into the proposed link-up with companies on its website.
'Maintain grip'
"Doing nothing is not an option for us and we want to explore all the options for how we address our budget gap," Mr Williams said.
"We recognise that this is a step into hitherto unexplored territory for us.
"Members have made it absolutely clear that the authority will maintain a tight grip on this project over the next 12 months."
It would be abandoned if it turned out not to be the right option for Surrey, he added.
The move is a joint initiative with West Midlands Police and is backed by the Home Office.
West Midlands Police said they had been working with Surrey on plans to involve the private sector in "middle and back office functions".