Loan of Chinese ceramics to Surrey 'a privilege'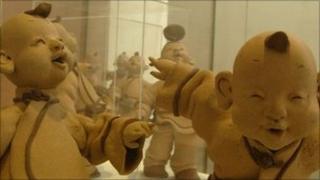 A collection of ceramics from a museum in China has gone on show in the UK for the first time.
More than 300 pieces from the Zibo Ceramics Museum have been loaned to The Lightbox in Woking, Surrey.
The display includes replica pieces of ancient ceramics including two terracotta warriors and vases from the Qin dynasty.
David Hodge, the leader of Surrey County Council, said it was a privilege for Surrey to host the exhibition.