USA cyclists to train for London 2012 in Surrey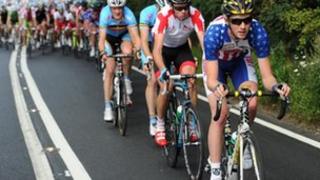 The USA Olympic road cycling team is to train in Surrey in preparation for London 2012.
The Olympic road cycle races and time trial events will both take place in Surrey during the London Olympics.
Jim Miller, of USA Cycling, said: "We are thankful for the opportunity to operate out of Surrey pre-Olympics.
"Surrey offers an unmatched combination of infrastructure and location that is ideal for our preparations for one of the biggest days in sport."
Councillor Denise Saliagopoulos said: "It's a real honour for Surrey to host athletes from a country with as strong a sporting pedigree as the USA.
"I'm sure Surrey will give them a welcome they will never forget. I hope their presence will encourage even more people to take up the sport."
Other Olympic athletes who have already signed up to train in the county are Australian cyclists, Chinese tennis players, and Croatian Paralympic swimmers.