Prince Charles' support for Surrey arts project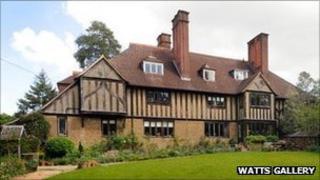 The Prince of Wales has become the patron of an appeal to save the Surrey home of two Victorian artists.
Prince Charles visited Limnerslease in Compton, the former home of George Fredric and Mary Watts in May.
The Grade II listed building has been in private hands since Mary Watts died in 1938, and now both parts have been put up for sale for the first time.
The trust is hoping its £9m project will save Limnerslease and allow it to create a retreat for artists.
Lady Angela Nevill, from the Limnerslease Project Appeal Committee, said the Prince of Wales' support would "provide tremendous inspiration" for the campaign.
She said: "With Watts Gallery - successfully restored and reopened in June 2011 - the Watts Chapel, the Compton Pottery and a hostel for apprentice potters, the return of Limnerslease will establish Compton as a unique Artists' Village."
Antony Gormley has given the gift of a sculpture to support the purchase in Limnerslease.
A spokeswoman for Prince Charles said he was "very pleased to become patron of the appeal".