Titanic memorial restoration work begins in Godalming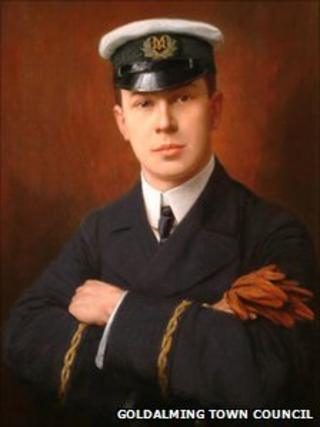 Restoration of a memorial to the chief wireless operator on the Titanic has started.
The Philips Memorial Cloister, in Godalming, is to be restored during a five-year programme.
The work is being carried out to coincide with the 100th anniversary of the ship's sinking in 2012.
It is being supported by the Heritage Lottery Fund and the Big Lottery Fund with a £335,000 grant through its Parks for People programme.
'Hard work'
Mr Phillips was born in Farncombe and had his first job in Godalming, before eventually becoming chief wireless operator on the Titanic.
The memorial opened on April 15, 1914, on the second anniversary of the sinking.
In recent years it has fallen into disrepair.
Jane Thomson, councillor at Waverley Borough Council, said: "Work getting started on the Phillips Memorial Cloister is a major milestone in this nationally significant project.
'Respectable state'
"Hard work to secure the funding to do this work means the memorial will be in a much more respectable state at the 100th anniversary of the sinking of the Titanic in six months time."
Weather-damaged tiles will be replaced along with rotting oak beams in the pergola.
Walls will be underpinned and the fountain bowl that had been vandalised will be restored.
The restoration work got under way this month after the wisteria and shrubs were removed, to allow easier access to the building.