Surrey campaign urges families to waste less food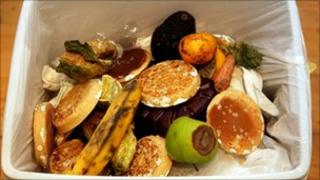 Families in Surrey are being urged to look at how much food they throw away after national figures showed the average household wasted £50 a month.
Surrey County Council said the figure amounted to one in five shopping bags, and £7.6m was spent each year to dispose of food waste in the county.
It has launched a Love Food Surrey campaign to persuade people to "shop smarter and waste less".
Councillor Ian Lake said householders could make a "few simple changes".
"I'm sure families would jump at the chance to have an extra £50 in their pockets during these difficult economic times.
"By making a few simple changes you can save money and also benefit the environment," he said.
The campaign provides recipe ideas for leftovers, shows how to shop more efficiently, and also offers way of storing food for longer.
Vegetables, salad, and fruit are among the most wasted foods.