Lighters seized in Surrey over 'fireball' fears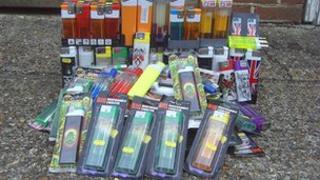 Giant cigarette lighters have been seized by Surrey Trading Standards officers who claimed they could explode without warning.
Almost 200 of the lighters have been seized from shops and market stalls across Surrey.
Safety tests revealed the flames commonly failed to extinguish and remained burning below the wind shield.
Surrey County Council warned the fault could lead to the lighters "exploding into a fireball".
The authority said the fault had led to plastic parts of the lighters catching fire and the fuel containers melting, releasing flammable gas.
Kay Hammond, Surrey County Council's cabinet member for community safety, said: "Clearly these oversized lighters can cause serious injury so I would urge people not to use them.
"They could explode in someone's face or hand, or if left alone may even cause a fire at home or work. The potential consequences are devastating."