Surrey heath habitat improved for tiger beetle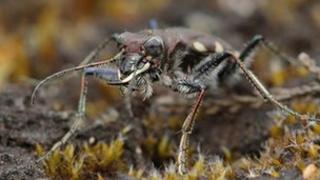 A three-year project to create habitats to improve numbers of a scarce species of beetle is nearing completion.
Surrey Wildlife Trust (SWT) said numbers of heath tiger beetles, which live in Surrey, Hampshire and Dorset, had more than halved in 25 years.
The trust has been working with heathland mangers in western Surrey and parts of West Sussex to create bare ground habitat since 2009.
Preliminary monitoring has already shown beetles using the new habitat.
SWT said the loss of heathland had led to the reduction in numbers.
Creating new habitat patches involves stripping back heather turfs to reveal bare sand, providing an ideal habitat for female heath tiger beetles to lay their eggs.
Work is set to continue this winter, with a follow-up survey and monitoring scheduled for spring and summer 2012.
"The heath tiger beetle requires dry heathland with areas of bare sand, short heather and patches of taller heather and scrub for food and shelter," said SWT ecologist Scotty Dodd.
"The (turf) scrapes created during 2009/10 have begun to regenerate with young heathers and other heathland plants, creating the perfect habitat mosaic for tiger beetles and many other heathland invertebrate species."
Anyone out walking on heathland who sees a heath tiger beetle has been asked to notify SWT.