Surrey accountant nears end of his run across the US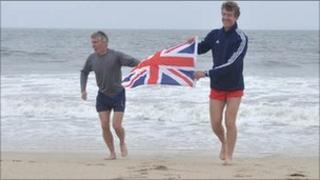 A Surrey accountant aiming to run 3,080 miles (4,957km) across the US to raise £10,000 for Help for Heroes is on track to finish on Sunday.
Chris Finill, 52, of Cranleigh, has been running about 40 miles (64km) a day since he left San Francisco with athlete Steve Pope on 17 August.
On Wednesday the pair, who plan to get to New York for Sunday's marathon, had 144 miles to go.
They have had to battle snowfall across the east coast of America.
Writing on his blog, Mr Finill said: "A couple of sunny days have helped progress after the dumping of snow earlier.
"Another day and a half in Pennsylvania and we should then be moving into New Jersey for the final onslaught.
"We still plan for arrival at New York on Saturday afternoon."
They have currently raised £3,030 out of their target of £10,000.