Surrey accountant completes epic run across the US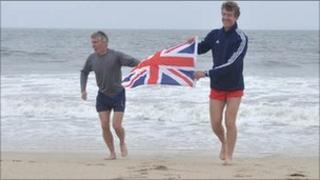 A Surrey accountant has completed a 3,080 mile (4,957km) run across the USA in aid of Help for Heroes.
Chris Finill, 52, of Cranleigh, has been running about 40 miles (64km) a day since he left San Francisco with athlete Steve Pope on 17 August.
The pair finished their run at Coney Island on the east coast of the US.
Their families were waiting for them at the finish line alongside the author of the book which inspired Mr Finill to begin the run, James Shapiro.
Mr Finill said every morning he had to look on running as a job to help him get through it.
"You have to eat the elephant in bite-sized chunks and think today we're going to run from x to y," he said.
"We got to Coney Island as the sun was setting. My family were on the beach to meet me and also James Shapiro, the author of the book that inspired me to run in the first place called, Meditations from the Breakdown Lane.
"It was a wonderful feeling."
They have currently raised £3,540 out of their target of £10,000.