London Irish Rugby Club plans for Sunbury ground refused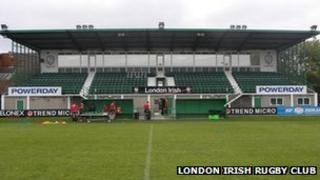 Plans for a new training ground for London Irish Rugby Club in Surrey have been rejected by the Secretary of State for Communities and Local Government.
London Irish had wanted to build a new training ground on the site of the Hazelwood golf course in Sunbury.
The club had also applied to build 194 homes, a health club and a care home on its training ground in The Avenue.
An 11-day public inquiry was held in June after Spelthorne Borough Council refused planning permission.
Councillor Richard Smith-Ainsley said: "There were substantial concerns about both applications including the loss of urban open space by developing The Avenue site and concerns about the impact on the green belt and noise at the Croysdale Avenue site.
"We hope this decision sends out a clear message to all developers about the importance of both our urban open space and Green Belt in the borough."
London Irish Rugby Club said it was "very disappointed" about the decision by the Secretary of State and was considering its next step
Andy Martin, chief executive of the club, said: "We very much hope to work closely with Spelthorne Borough Council and our neighbours over the coming months to find an alternative solution as London Irish has no option but to relocate from its current location."