Ashford and St Peter's hospital trust 'worst for stroke patients'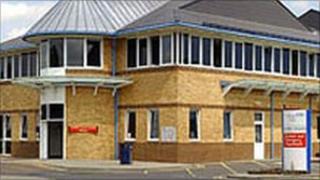 A Surrey hospital trust has been named by an independent health watchdog as the worst in England for some aspects of dealing with stroke patients.
Health analysts Dr Foster said Ashford and St Peter's Hospitals NHS Foundation was below expected levels for discharging patients and those developing pneumonia.
The study used hospital data to compare performances in different areas.
The trust said its acute unit treated patients with the most severe strokes.
The survey found that Ashford and St Peter's was below expected levels for discharging patients within 56 days of having a stroke and for the number of patients developing pneumonia due to swallowing problems.
It was within expected levels for death rates, length of stay and emergency re-admission rates within 28 days, the survey said.
Dr Mike Baxter from the trust said: "As a large acute stroke unit we treat patients who have suffered the most severe strokes and whilst we are saving lives, the severity of their brain injury means more require specialist rehabilitation and are often not able to return to their previous place of residence.
'High quality service'
"Similarly, patients who suffer more severe strokes are more likely to experience swallowing difficulties, and this can lead to pneumonia.
"However, in the light of this report we will also be reviewing our therapy input to ensure we are giving the best possible care to our patients."
The latest results in the Stroke Improvement National Audit Programme report, published by the Royal College of Physicians, showed the trust as being in the top 25% in country for treating stroke patients, and the top performing trust in Surrey.
Dr Baxter said: "Given our lower than expected mortality figures and successful performance in the other stroke indicators as demonstrated in the national stroke report, we are confident that we provide a high quality, safe service which helps to save lives."