Surrey Police appeal over 'heartless' memorial thieves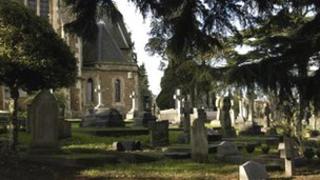 Surrey Police have appealed for help to find "heartless" thieves who stole over 90 memorial plaques from a churchyard.
The thieves targeted the cemetery at St Luke's Church in Whyteleafe Hill, taking 93 plaques and discarding more in the church grounds.
The theft happened between 23 November and the morning of 25 November.
Det Con Errol Chetty said: "As we approach Christmas stealing memorial plaques from a church cemetery is truly heartless."
He added: "The price of metal is high at the moment which makes it an attractive commodity to thieves. But this offence is disgraceful and put simply we need your help."