Raids target Frimley Park Hospital anaesthetic gas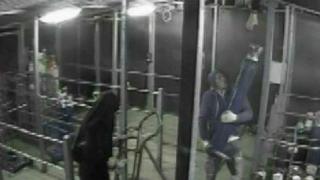 Thieves who stole six canisters of nitrous oxide from a Surrey hospital have targeted the compound five or six times, police say.
Officers released CCTV images in a bid to stop the raids at Frimley Park Hospital.
Det Con Stuart Pittaway said the anaesthetic gas was also used as a party drug and to make cars go faster. It is also known as laughing gas.
CCTV images have been released of an incident in October.
'Brazen act'
In that incident, gas cylinders worth £6,000 were stolen.
Det Con Pittaway said: "These thieves have brazenly carried out this break-in which has netted them thousands of pounds worth of nitrous oxide.
"This is the fifth or sixth time the compound has been targeted for the same reason, and my biggest concern is that these break-ins are putting patients' lives at risk if the gas is not available when required."
Officers said the two men broke into the building in Portsmouth Road through a ventilation opening in the roof and then lifted the gas cylinders up to a third man who was on the roof.
Police said the offenders also hoisted a cylinder trolley through the opening to take the cylinders away from the scene.