Surrey 'rogues' gallery' launched on police website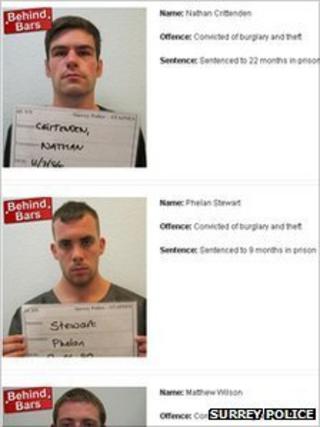 Images of burglary suspects and convicted burglars have been published on the Surrey Police website.
Police hope the project will reassure homeowners about the criminals officers have brought to justice, as well as help them track down suspects.
Temporary Chief Constable Craig Denholm has urged anyone who knows police want to speak to them to hand themselves in.
The pictures, described as a "rogues' gallery" by Surrey Police, will be on display for a three-month trial period.
Mr Denholm said: "Officers have carried out great work in reducing our outstanding burglary offences and the website will reassure homeowners of those brought to justice and taken off the streets.
"However, there are still too many people who are on the run trying to evade justice and we need the public to help us out.
"I would say to anyone who knows they are wanted, hand yourself in now.
"Anyone found to be helping those who are wanted or handling stolen goods could also find themselves in serious trouble."
A spokeswoman for Surrey Police said the gallery would be updated on a regular basis.