Woman fined over caravans after Runnymede planning row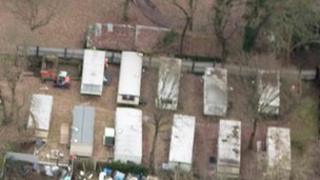 A woman who let people live in caravans on her land in Surrey without planning permission has been fined £15,000.
Diana Vick, of Glenfield, Hurst Lane, Egham, admitted two counts of breaching enforcement notices in a hearing at Guildford Crown Court.
Vick had denied the charges but changed her pleas at the start of a trial.
She was also ordered to pay £3,452 prosecution costs. A court official said Vick faced a six-month prison term if she defaulted on her payments.
Greenbelt site
Before the hearing, Runnymede Borough Council, which served the enforcement notices on Vick, said she had housed 11 caravans and mobile homes on her land and some of them were occupied as residential accommodation.
The local authority said this had all been done without planning consent on a greenbelt site.
In May 2009, the council's planning committee considered an application to put caravans on the land but decided to take enforcement action instead.
Enforcement notices were served in May and September that year for unauthorised change of use, but Vick appealed against them.
Inspectors upheld the notices and council inspections of the site were carried out in 2010 before court proceedings started.