Guildford Lido sculpture felled as roots rot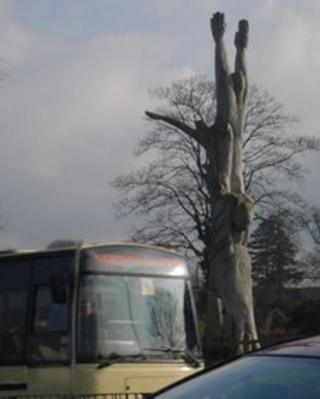 A sculpture made from a 100-year-old beech tree, commissioned as a temporary artwork in 2002, has been felled.
Guildford Borough Council said the sculpture, called The Drivers, near Guildford Lido might become unsafe as the roots of the dead tree rotted away.
The sculpture, the work of Godalming artist Ruth Wheeler, depicts intertwined figures leaping from water.
It has been laid on its side at the Stoke crossroads site until a new location is found.
"The tree sculpture gave an unusual and interesting welcome to visitors on their way to Guildford," said Councillor Jen Powell.
"The piece has now come to the end of its natural life. I will miss the sculpture as it has become part of the local scenery."
Ms Wheeler said she made the work at the beginning of her career as a wood sculptor.
"The sculpture means an awful lot to me," she said. "I am very sad to hear that it has to be felled, but it had to happen one day."