Reigate farm music festival plans opposed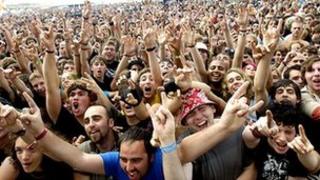 Neighbours of a farm near Reigate in Surrey are fighting plans to turn it into a music festival venue.
An entertainment company has applied for an events licence for Edolphs Farm at Norwood Hill near Charlwood.
Kim Seaman, one of the farm's owners, said she hoped the venue would hold county fairs and charity events but was shocked at hostility to the plans.
Those opposing the application say residents will be affected by traffic congestion and noise from the venue.
Patrick Cox, who lives near the farm, said a three-day-music festival was being planned at the venue.
"Up to 60,000 people and 18,000 vehicles could be coming into the area," he said.
"It doesn't take much to upset the flow of traffic in this area."
Councillor Charles Yarwood from Mole Valley District Council said the music festival would be two-thirds of the size of Reading Festival, with the corresponding levels of crime.
Fiona Stimpson, chairman of the Horley Chamber of Commerce, said it would bring business to the area.
"If it could bring money to the area that has to be good," she said.