CCTV from 'well rehearsed scam' robbery in Staines issued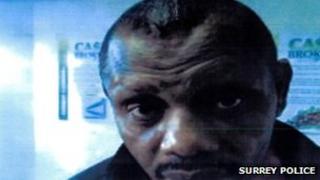 A CCTV image of one of two men who robbed a man in his 60s of £1,200 in Staines has been released.
One man entered the Cash Brokers in the High Street on 28 October and told the victim he had some gold he wished to sell.
He then had a pretend argument with a second man who had entered the shop claiming the gold was his, during which the money was taken.
Det Con Ross Linaker said: "This was a planned and well-rehearsed scam."
The first man was described as black, between 5ft 10ins and 6ft tall, medium build, with short dark hair and a trimmed moustache and was wearing a black jumper and a purple shirt.
The second suspect is black, between 5ft 2ins and 5ft 3ins tall and of medium build.