Graffiti damage by Zoro and Mash in Caterham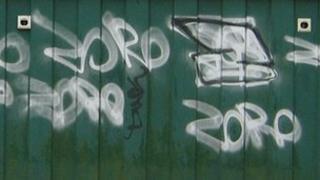 Property in Caterham in Surrey has been damaged by a spate of recent graffiti.
Surrey Police said they are looking for the authors of the tags "Zoro" and "Mash" which have appeared across the town over recent weeks.
Community support Officer Vicky Semour said: "These tags are mindless acts of criminal damage and we need to find those responsible before they cause more damage."
Police have asked anyone who knows the author of either tag to contact them.