Runaway lorry crashes into Reigate house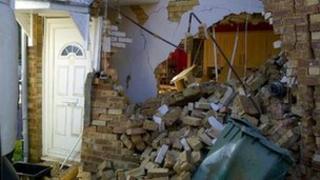 Neighbouring homes had to be evacuated amid fears a gas main could have been damaged after an articulated lorry crashed into a house in Surrey.
The lorry crashed into some parked cars before hitting the house in Beaufort Road, Reigate, at about midday.
The house was unoccupied at the time and there were no reports of injuries.
The gas and electricity supplies were later made safe and a building inspector attended the scene to assess the damage to the house.
Surrey Police said the lorry had careered down a hill in Yorke Road and travelled over a crossroads into Beaufort Road.
Beaufort Road remained closed on Monday evening between Nutley Lane and Saxon Way.