Redhill Aerodrome runway plan 'should be rejected'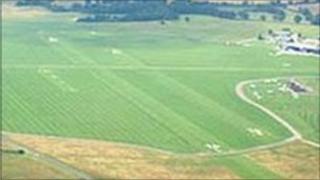 The owners of an airfield in Surrey should not be given permission to build a hard runway, planning officials have said.
Redhill Aerodrome wants to replace its three grass runways with a concrete one, enabling it to increase flights from 60,000 to 85,000 a year.
Officers at Tandridge Council have advised councillors to reject the proposal at a planning meeting later.
Reigate and Banstead Council turned down the plan last month.
'Noise and pollution'
The aerodrome, which is home to more than 20 companies employing 350 people, has been in operation for about 80 years.
Its greenbelt site straddles the border between Tandridge and Reigate & Banstead.
A study carried out for Redhill Aerodrome Ventures Ltd (RAVL) showed the development could create 170 jobs and bring £8m a year into the local economy.
But more than 1,000 people have signed a petition against the plan.
They argue the runway will lead to increased noise and pollution and destroy greenbelt land.