Family found through Redhill panto poster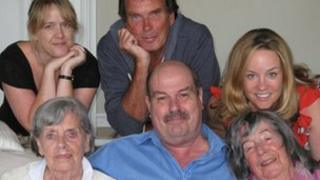 A man has traced his long-lost relative after he saw him on a theatre's pantomime poster in Surrey.
Barry Skinner, from Horley, was in Redhill when he saw Maurice Thorogood on the Harlequin's poster for Sleeping Beauty.
When he looked on the theatre's website Mr Skinner realised that Mr Thorogood was his cousin.
A family dispute 40 years ago had caused the relatives to lose contact with each other.
'Really fantastic'
Mr Skinner said: "I just spotted the poster in Horley and thought I recognised the name, so I went onto The Harlequin's website and found that Maurice was who I though it was, my cousin."
Mr Thorogood is playing King Rupert in the pantomime in Redhill over Christmas and new year.
He said: "It really is fantastic to have Barry back in our lives, meeting his wife and grown up children and hearing all about what they have been up to including the great work he has been doing for a local charity in Horley.
"You couldn't ask for a better present at Christmas time."
Mr Skinner said: "I have even booked tickets to see him in the show."