William Cobbett portrait given to Farnham museum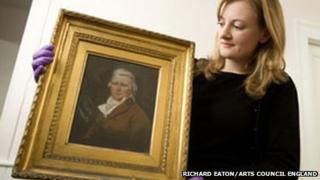 A portrait of a reformer and political activist born near Farnham has been given to the Surrey town's museum.
The picture of William Cobbett by John Raphael Smith was given to the nation in lieu of tax under a system set up by David Lloyd George in 1910.
The Arts Council, which administers the Acceptance in Lieu (AIL) scheme, said the portrait settled £1,400 of tax.
It is now owned by Farnham museum and is on temporary display until 7 January before a permanent place is found.
'Prolific journalist'
A Farnham museum spokesman said Cobbett was one of the town's "most famous personalities".
He said the museum already had a great deal of material about Cobbett and this would add to the collection.
The Arts Council said the AIL scheme was set up to allow the offsetting of inheritance tax by the transfer of objects of cultural, historical and artistic significance to the nation.
In the 101 years that the scheme has been in operation, thousands of items, including Picasso's Weeping Woman, have been allocated to museums, archives and galleries across the UK.
Cobbett was known as being one of the most prolific journalists in history and was also the originator of parliamentary reporting.
It is thought that during his career he wrote over 40 million words.
He was born and died near Farnham and this is the earliest recorded portrait of him, the Arts Council said.