Frimley Park Hospital's new scanners installed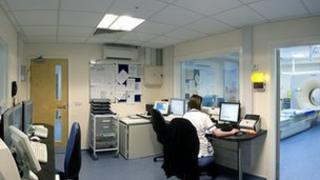 Two CT scanners installed at a Surrey hospital at a cost of £1m have "revolutionised" services, NHS bosses have said.
The scanners have replaced an older machine at Frimley Park Hospital.
The NHS trust said the scanners allowed the hospital to provide more diagnostic scans and also led to less disruption caused by emergency patients.
CT scanners use multiple X-ray beams to build up three-dimensional images of internal organs, tissue and bone.
They are used to examine cancers, chest diseases and brain injuries including strokes.
Radiological services manager, Philip Ramsey, said: "The investment we've made in these two new machines is revolutionising our CT scanning service.
"They are also much quicker, making the process that little bit less stressful for the patients, and the images we get from them are first class."