Surrey apprenticeship drive secures 95 places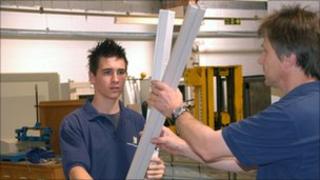 A campaign to get 200 young people into apprenticeships in Surrey has almost reached the half-way mark.
Surrey County Council (SCC), which is spearheading the scheme, launched at Surrey Youth Fair on 27 September, said 95 apprenticeships had been found.
The council is urging businesses to take on young people as part of its push to help 16 to 19-year-olds.
It wants all the county's young people to be in education, employment or training by 2015.
Councillor Tim Hall said SCC wanted businesses to follow the example set by the council, which took on more than 70 apprentices between 2009 and the start of the scheme.
'Practical skills'
"We are quite a large employer of apprentices ourselves, which is why we are happy to head up this campaign," he said.
"We have had some tremendous young people through the door, many of whom might have fallen out of school or college."
He said apprentices often brought practical skills with them, such as "IT know-how".
"One of the interesting things is that they really upskill our IT," he said.
"Many of our employees have worked for us for many years and a lot of young people bring really great skills with them."
"Probably 60% of our apprentices have stayed with us in next stage jobs."