Study finds Victorian asylums 'surprisingly domestic'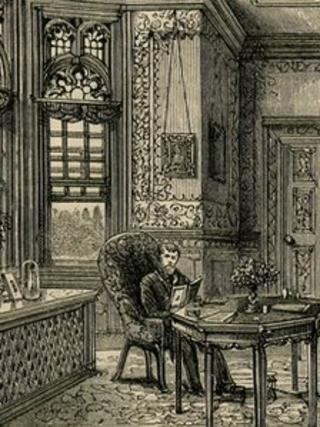 Results from a two-year study into the design of Victorian institutions, which surprised academics, are on display in Surrey.
Dr Jane Hamlett from Royal Holloway researched the interior decoration of asylums, schools and lodging houses.
Dr Hamlett said: "We were most startled by how 19th Century authorities were really concerned to create a domestic environment for patients."
The exhibition focuses on the Holloway Sanatorium, near Virginia Water.
Dr Hamlett said: "The Holloway Sanatorium was for people who would pay a fee and you can really see that in the way that it has been designed and decorated, it's really quite elaborate.
She added that the 19th Century "was really the era of institutional expansion."
"We get the arrival of the workhouse, the expansions of prisons and the large-scale building of lunatic asylums by the state," she said.
The exhibition also features the 19th Century decoration of Charterhouse school in Godalming and the interiors of common lodging houses in the county.
The exhibition at the Surrey History Centre is open until 28 January.