Macmillan Cancer Support 'adopts' Frimley Park NHS unit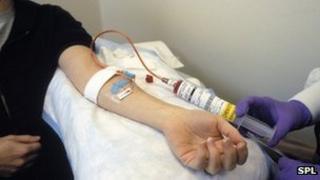 An NHS chemotherapy unit has been adopted by Macmillan Cancer Support in a move that will see specialist support given to the nursing team.
Workers at the unit at Surrey's Frimley Park Hospital will be called Macmillan staff and use the charity's name.
The NHS trust said hospital staff would gain extra training, development and service support under the scheme.
Lead chemotherapy nurse Claire Savage said the charity had been extremely supportive of the hospital.
She said it showed how well the relationship had worked.
Nursing specialists
She said a partnership between the NHS trust and the charity had initially highlighted a need for an acute haematology specialist nurse.
The hospital then made a bid to Macmillan which funded the first three years of the post, with the hospital funding the position after that.
Nurse Corinne Quinn started the role in August.
The NHS said Ms Quinn's appointment had then led to the formation of plans for the "adoption" of the whole unit.
A spokesman for the NHS trust said there was no financial exchange and the scheme was an extension of the work that Macmillan Cancer Support currently did in hospitals.
Under the agreement, Macmillan has adopted three chemotherapy nurse specialists, a junior sister and four staff nurses.
They are all still employed by the NHS but have access to specialist support from the cancer charity.