Elmbridge 'snowmen' groups to clear pavements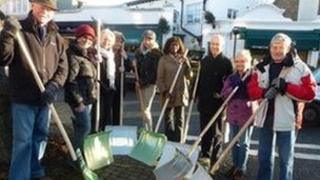 A snow clearance scheme modelled on a similar project in Denmark has been set up in Surrey.
"Snowmen" groups in the borough of Elmbridge will see local people clear their own pavements of snow.
One group has already been allocated nearly £500 to buy 12 snow shovels in case of severe weather.
Resident Richard Lanigan, who used to live in Denmark, suggested the scheme under which every group gets a co-ordinator and snow clearing equipment.
Mr Lanigan proposed that each road had its own group, and he went on to set up the first group in his own street.
Another group was set up by residents in the wards of Thames Ditton and Weston Green, co-ordinated by resident Peter Haynes.
A spokesman for Elmbridge Borough Council said every councillor had funds of up to £500 which could be awarded to community and voluntary groups.