McLaren's Woking site 'to create hundreds of jobs'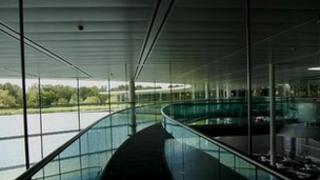 Formula 1 racing team McLaren says 900 jobs could be created when it builds a new technology centre in Surrey.
Woking Borough Council has approved plans to build new offices, a wind tunnel and car parks on the site between Woking and Ottershaw.
McLaren said the new centre would allow its Formula 1 and supercar operations to be on one site.
Conservationists said building on the 23 hectares (58 acres) of greenbelt land would lead to a loss of wildlife.
The land was last used as a tree nursery and will include a landscaped area with new lakes.
'Countryside lost'
The motor firm said: "Up to 300 construction workers will be employed at the site at any one time over the phased development, and 400 direct jobs will be created and retained at the site.
"An additional 200 jobs will be created indirectly through manufacturing, suppliers and clients, and increased retail spend in the area."
The new centre will comprise of about 60,000 sq m (646,000 sq ft) of workshops, prototype manufacturing and testing space, research and development equipment and offices.
McLaren said the new facilities would enable it to develop new and advanced engineering skills in partnerships with local schools and colleges.
The McLaren Formula 1 team is based at the Woking headquarters and in November a new production centre for the company's high performance sports cars was officially opened.
Amanda Masters from the Surrey Chambers of Commerce said: "We always support any plans which mean an increase in the numbers of jobs in the area."
Environmentalists are worried about the effect the development will have on wildlife and natural habitats in the area.
Paul Rimmer from the Horsell Common Preservation Society said: "We can't understand why yet another beautiful piece of Surrey countryside should be lost to development without the developer compensating for the loss of greenbelt."
Geoff French, chairman of the Enterprise M3, a partnership between businesses, councils, education and voluntary organisations, said: "In our area we need to strike a balance between economic growth and the environment."
A final decision on the planning application will be made by the Secretary of State.