War Horse: Surrey military historian advisor on Spielberg film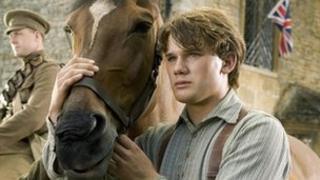 A military historian from Surrey has spoken of his role as the military advisor on Steven Spielberg's War Horse film.
Andy Robertshaw, who works at the Royal Logistic Corps Museum, in Deepcut, was tasked with keeping the battle scenes authentic.
Mr Robertshaw said he was also cast as the officer who blew the whistle signalling the men to go over the top.
Most of the action was filmed at Wisley Airfield, in Surrey.
Mr Robertshaw said: "I wore uniform because it was easier to do it that way. When it came to doing the over the top sequence, for whatever reason, [assistant director] Adam Somner or possibly Steven Spielberg decided that it would be amusing to make my job real.
"So I'm the person that blows the whistle.
"Had they told me in advance I think I would have just fainted, but as it was there was no warning."
Mr Robertshaw also praised Mr Spielberg's direction, in particular one instance when one of the trenches was flooded and then partially drained.
He said: "Mr Spielberg arrived and walked down with his entourage. They didn't tell him there was a hole about 5ft deep and he disappeared up to his waist.
"Everybody froze. We waited for him to storm off, but he said, 'all the actors are wet, all the extras are wet, I'm wet, so let's just carry on'.
"That was a wonderful moment."