Surrey woman working to rehome 300 freed battery hens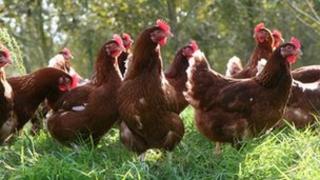 A Surrey woman who has helped to rehome thousands of battery hens is looking for people who can take in a further 300 birds.
Brenda Hart, a volunteer for the British Hen Welfare Trust, started helping the charity last year.
During that time, she and her fellow volunteers have rehoused more than 2,300 hens across Surrey.
The Cranleigh resident will hold a rehoming day at her house in Knowle Lane on Saturday.
'Free-range retirement'
A spokesman for the trust appealed for people to contact the charity if they could give any of the birds a home.
He said the charity had started to struggle to find homes for all the hens it wanted to place.
The trust rehomes commercial laying hens destined for slaughter, predominantly turning them into family pets.
It gives tens of thousands of hens a free-range retirement each year.
Anyone who can help Ms Hart is asked to contact the charity.