Choking baby saved by Surrey policeman Tristan Barnett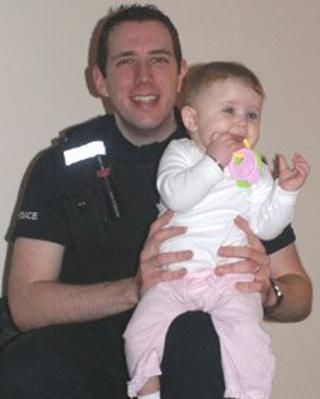 The parents of an eight-month-old baby girl who had a plastic tag stuck in her throat have praised a quick-thinking policeman who helped save her life.
PC Tristan Barnett was on patrol in Oxted, Surrey, when he saw the girl's father calling for help in the street.
He gave Amelia, who had stopped breathing, several slaps on the back which caused her to cough and dislodge the piece of plastic.
Her parents said: "We cannot express how grateful we are to PC Barnett."
The couple, who do not want to be named, added: "We have never been so relieved to see a police officer before and are so glad they were on patrol in our area when Amelia stopped breathing.
"We have been looking at taking a first aid course since the incident took place as we now know just how valuable they can be."
'Extremely proud'
Ambulance crews took Amelia to hospital for a full check-up following the incident on 8 January.
PC Barnett said: "I am just grateful I was able to assist and help revive Amelia, who has made a full recovery following the incident and I wish her all the best for the future.
"I have never been so relieved to hear a child cry before."
His actions were also praised by Insp Angie Austin, of Surrey Police.
She said: "I am extremely proud of PC Barnett and although Tristan is being very modest about his actions, it doesn't get much better than saving the life of a baby and he should be recognised for his work."