Epsom and St Helier NHS: Missed appointments cost £5.6m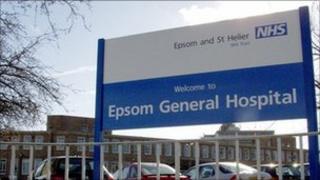 Missed appointments at an NHS trust covering Surrey and south London have cost local hospitals £5.6m, latest figures have shown.
Epsom and St Helier NHS trust said funds lost from missed appointments in 2010-11 could have paid the salaries of about 226 nurses for a year.
The total cost of missed outpatient and surgical appointments was £5,664,836.
The NHS said each missed booking cost about £126 and urged people to let staff know if they had to reschedule.
'Could affect health'
Joint medical director Dr Ruth Charlton said: "We understand that sometimes other things come up, but all that we ask is you tell us so that we continue our work without disruption."
She said people could telephone or email the health trust if they needed to reschedule a visit.
She added: " As a consultant, I know only too well how disheartening it is when people don't turn up to their appointments and don't let us know.
"Of course, we only schedule appointments for the people who need them, so missing an appointment not only disrupts our service, but it could have a knock-on effect on your health."
The trust runs Epsom Hospital in Surrey, and three hospitals in London - Sutton Hospital, St Helier Hospital and Queen Mary's Hospital for Children.