Record breaking Atlantic rower returns home to Surrey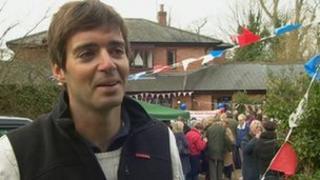 A 26-year-old man who broke the record for the fastest solo Atlantic crossing has returned home to Surrey to a hero's welcome.
Andrew Brown took 40 days to row 2,936 miles from Tenerife to Barbados in a 19ft (5.7m) boat.
He returned to Limpsfield earlier to be greeted by his parents, girlfriend and villagers.
Mr Brown said he had no plans to carry out a similar challenge in the near future.
"I think I'll avoid putting my family through something like this for a little while," he said.
"But we'll see what's next - perhaps a smaller challenge."
Mr Brown took part in the Atlantic Challenge, billed as the world's toughest rowing race, and was raising money for two UK children's charities.
He said: "To get over the finish line was absolutely fantastic. The final row in was quite tough and quite long, but I think the adrenaline had started to wear off a bit then."
Organisers of the challenge claim more people have travelled to space than have rowed across the Atlantic.
Emmanuel Coindre, from France, held the record prior to Mr Brown for a crossing made in 2004.