Epsom Hospital: Beds reopen after norovirus outbreak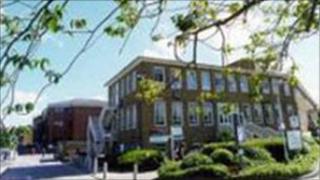 Beds have started to reopen at a hospital in Surrey under "significant pressure" from an outbreak of the winter vomiting bug.
Twenty-nine patients had the norovirus the height of the outbreak at Epsom Hospital.
But 75 out of 243 beds were affected because some were close to patients suffering from vomiting or diarrhoea.
The hospital said the situation had improved and 22 beds had reopened.
'Keep children away'
A spokesman for Epsom and St Helier University Hospitals NHS Trust said infection control and prevention teams had been working alongside staff to lessen the impact of the outbreak.
The NHS trust has urged people with symptoms of the sickness bug to reschedule routine appointments and not to visit the hospital.
People have been advised to check with their GP before going to A&E, and to contact the hospital for advice if they need to attend urgent appointments such as at cancer clinics.
People without symptoms are also asked to keep visiting to a minimum and to avoid bringing children into the hospital.