Molesey Boat Club plans new rowing centre near Thames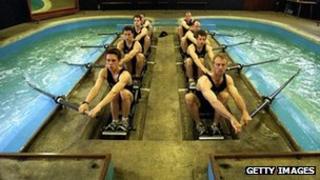 A boat club has submitted plans for a new rowing centre to be built near the banks of the River Thames.
Molesey Boat Club, in Surrey, hopes the new centre will capitalise on the sport's exposure during London 2012.
It will include a gym and an indoor rowing tank, which will be used to teach basic techniques on dry land.
Molesey team captain Andrew Triggs-Hodge, who won a gold medal at the Beijing Olympics, said he was "thrilled" by the plans.
According to the club, conditions on the Thames are sometimes unsafe so the rowing tank will allow young people to train all year round.
If the plans are approved the club hopes to start construction in 2013.