Royal Holloway experts screen Surrey pupils' language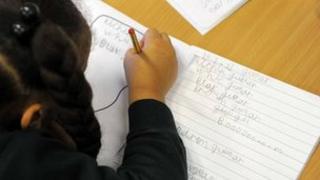 All children who started at council-run schools in Surrey this academic year are to have their language skills screened.
Experts from Royal Holloway, University of London, are investigating why language difficulties develop and how problems affect children's development.
Research has shown about 7% of children start school with language delay and cannot construct proper sentences.
Surrey County Council said the study would help to unlock pupils' potential.
Deputy leader, Councillor Peter Martin, who worked to ensure the council teamed up with Royal Holloway in Egham, said: "Our priority is excellence in education.
"We are determined to ensure our schools unlock every child's full potential and this vital research will help us do that.
"Although Surrey has some of the best-performing state schools in the country there is always more we can do."
Researchers carrying out the £500,000 study, funded by the Wellcome Trust, will first screen all children who started school in Surrey in September and then go on to assess 500 children in detail over the next three years.
Dr Courtenay Norbury, head of the literacy, language and communication laboratory at Royal Holloway, said: "Language problems can hinder children's ability to read and write and there are strong links between poor language skills and a variety of problems later in life, including behavioural issues.
"If children can't express themselves properly it can cause them to become frustrated and disillusioned with school so we need to address these issues as early as possible."