Surrey Heath armed forces 'to join local life'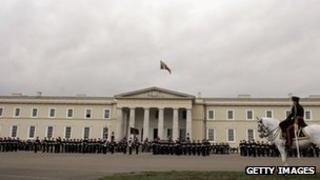 A pledge to strengthen links between the armed forces and the community in Surrey Heath has been signed.
The agreement includes activities to integrate armed forces personnel into local life and support them with health, employment and housing needs.
Surrey Heath councillor Moira Gibson also said the deal would bring opportunities to bid for a share of £30m government funds over four years.
Signatories include the Army, council, police, fire and NHS bodies.
Several charities and the county's chambers of commerce are also included in the agreement.
Ms Gibson said: "Surrey Heath has long and historical links with the armed forces based at Sandhurst and Deepcut so we are proud to sign up to the covenant in developing existing relationships."
She said the local declaration was to complement the national Armed Forces Covenant, which outlines the moral obligation between the nation, government and armed forces.
The Army is due to leave Deepcut Barracks next year, and plans to build 1,200 homes on the site are currently being considered.